Takeda: Dengue Vaccine Candidate Works Without Big Safety Risks
Drugmaker Takeda announced Thursday that its dengue vaccine candidate, TAK-003, prevented 84% of hospitalized dengue cases and 61% of symptomatic cases in 4.5 years of follow-up during its phase 3 TIDES trial.
Critically importantly, they identified no important safety risks in this trial of more than 20,000 children and teens in Southeast Asia and Latin America.
"We have a total of four and a half years of follow-up now, where we've seen consistent, persistent benefit and the continued absence of risk," Derek Wallace, MBBS, vice president and Global Dengue Program Head at Takeda Pharmaceuticals, told Medscape Medical News.
"The World Health Organization has a kind of guideline for clinical development of dengue vaccines, and in that, they recommend between 3-5 years of follow-up after vaccination is completed," Wallace said.
"The rationale for that is, that in natural dengue outside of vaccination, a second exposure to a dengue infection can be more clinically severe from the first exposure," he said.
Dr Derek Wallace
"The concern with a vaccine is you're essentially priming as a first exposure," he said. "The second exposure, which is your first natural exposure, is worse. You expect that to occur sometime in the first year or two after vaccination. So, if you follow four and a half years after vaccination, and you haven't seen it, it's unlikely that your vaccine's going to cause that concern."
The reason the second dengue infection can be quite severe or fatal, because of enhanced virulence, is due to a phenomenon called antibody-dependent enhancement (ADE). There is concern that a vaccine could act as an asymptomatic primary dengue infection, priming the body for a severe reaction from ADE.
The only other dengue vaccine, Sanofi's Dengvaxia, was under a cloud of heavily politicized safety concerns after use in the Philippines and, since 2019, cannot be sold there.
The FDA approved Dengvaxia on May 1, 2019 for use in children ages 9-16 in endemic areas, such as Puerto Rico, which has 95% of domestic dengue cases, almost 30,000 cases between 2010 and 2020. However, the CDC's Advisory Committee on Immunization Practices (ACIP) requires that children also have evidence of prior dengue infection with specific tests.
TAK-003 offers a huge advantage over the current vaccine, Dengvaxia, because serologic tests are not needed prior to immunization.
In this TIDES follow-up study, TAK-003 demonstrated 84.1% vaccine efficacy (VE) (95% CI, 77.8 – 88.6) against hospitalized dengue, with 85.9% VE (95% CI, 78.7 – 90.7) in seropositive individuals and 79.3% VE (95% CI, 63.5 – 88.2) in seronegative individuals, according to Takeda.
TAK-003 also demonstrated overall VE of 61.2% (95% CI, 56.0 – 65.8) against virologically confirmed dengue (VCD), with 64.2% VE (95% CI, 58.4 – 69.2) in seropositive individuals and 53.5% VE (95% CI, 41.6 – 62.9) in seronegative individuals.
"This will now put a lot of minds at rest that this has now worked for four and a half years," Sophie Yacoub, MD, PhD, MSc, the Dengue Research Group lead at OUCRU-Vietnam, told Medscape Medical News. "There's still this reduction in hospitalizations, which is fantastic."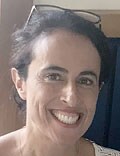 Dr Sophie Yacoub
She added, "The fact that you could use it in seropositive and seronegative…would be a big step up from Sanofi's. Having evidence you've already got antibodies to dengue is just, it kills any vaccination program, I suppose…Having to do a blood test to screen people's blood just adds that extra level of complexity and cost. So, I think the Takeda vaccine is just better because of that reason."
Wallace also noted that, as with COVID, the toll of dengue is not just on the individual patient. "Part of the impact of the disease can be that it just overwhelmed healthcare systems…So the performance of a vaccine against hospitalized dengue is particularly important."
Asked about the role of Wolbachia and mosquito eradication efforts vs vaccination, Wallace said, "We think the best way to fight dengue is to think about it holistically, which means continuing vector control as well as vaccination. We need to learn how best to manage those two different modalities. It's likely the optimal dengue control."
Wallace indicated Takeda is seeking licensure for TAK-003 in both the European Union and select dengue-endemic countries and will soon be approaching the FDA.

"This is really welcoming news," Yacoub concluded. "This data has reassured me. This will hopefully be added to some of the public health responses that we can do for dengue. Because at the moment, we're really just relying on vector control."
Wallace is an employee of Takeda. Yacoub reports no relevant financial relationships.
Judy Stone, MD, is an infectious disease specialist and author of Resilience: One Family's Story of Hope and Triumph Over Evil and of Conducting Clinical Research , the essential guide to the topic. You can find her at drjudystone.com or on Twitter @drjudystone.
For more news, follow Medscape on Facebook, Twitter, Instagram, YouTube, and LinkedIn
Source: Read Full Article